Zoom meetings in December:
Dec. 10:  Regenerative Viticulture
Dec. 14:  the Chemistry of Smoke Taint (repeated Jan. 7, 2021)
Thursday, Dec. 10, 3:00pm: a virtual Zoom presentation and discussion on Regenerative Viticulture with Kelly Mulville, Paicines Ranch
As we wind down what has been a challenging year, we are fortunate to be able to feature a meeting/discussion on Regenerative Viticulture with one of its pioneers: Kelly Mulville of Paicines Ranch in Hollister.
Regenerative agriculture/viticulture goes beyond replenishing to actually, as its name suggests, regenerating and adding to the ecosystem, especially in regards to the soil. This webinar will address how regenerative viticulture is practiced in the 25-acre vineyard at Paicines Ranch as well as general vineyard practices, the focus on soil health, mimicking ecosystem functions with grazing animals, and design principles for increasing both profitability and ease of management. Additionally, we will discuss how to incorporate (some of) these practices in your vineyard, and talk about post-harvest practices to prepare your vineyard for winter dormancy and next year's healthy growth. Kelly Mulville is a Certified Educator with Holistic Management International (HMI), and also a UC Santa Cruz Farm and Garden graduate. See more about Paicines Ranch and Regenerative Agriculture below.
And, we will have the opportunity to touch bases following harvest and share updates about our own vineyards, ask questions, and enjoy each other's company (albeit on Zoom). If you need the Zoom link contact info@vascm.org.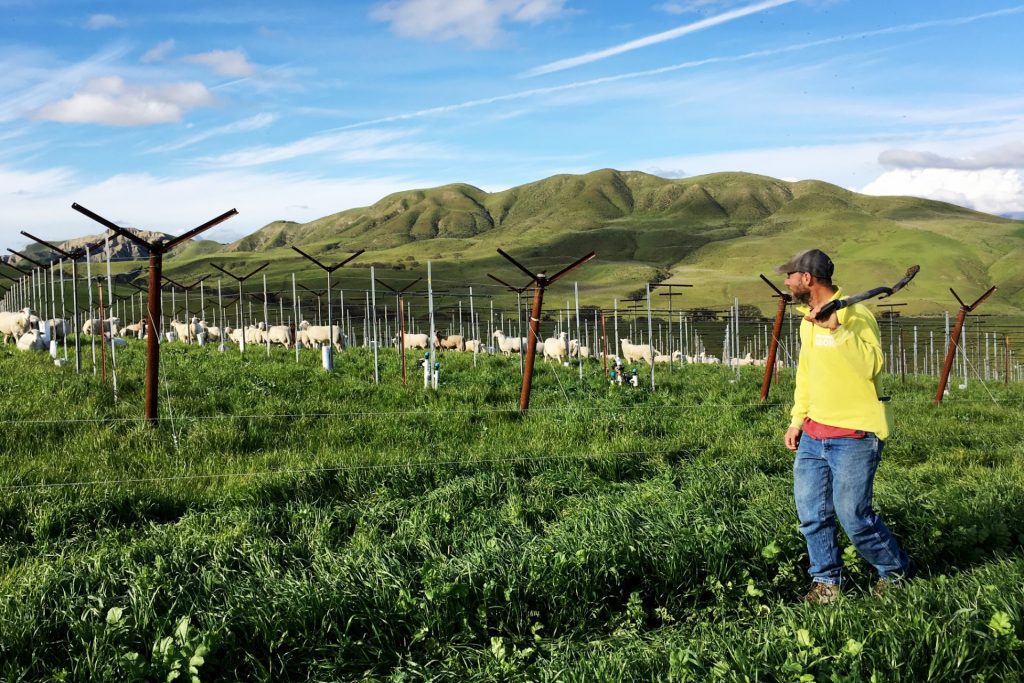 About Paicines Ranch and the Vineyard:
What if it were possible to design a vineyard that required very few inputs or human labor, produced good yields of high quality grapes, produced animal protein, improved soil health, sequestered carbon, increased diversity, and made a good financial return? This was the vision presented by holistic management educator and viticulturist, Kelly Mulville, at an EcoFarm presentation in January, 2013. His presentation was based on a trial that he had done in California between 2008 and 2010.
Kelly joined the Paicines Ranch team in early 2014 and installed the vineyard, including soil testing, a light compost application, higher stock density grazing by sheep and cattle, the planting of cover crops, installation of irrigation, and some leveling and ripping on the 25 acre site. The ground will not be tilled again during the life of the vineyard.
Paicines Ranch is a historic 7,600-acre ranch located in central California. Using regenerative agricultural practices, the ranch team manages this diverse landscape in partnership with nature and livestock to build healthy soil, increase biodiversity, and create abundance. All of their row crop and pasture land is certified organic and managed using the principles of Holistic Management—a value-based decision-making framework that integrates social, economic, and environmental considerations in all aspects of planning.
The ranch currently produces 100% grass-fed-and-finished lamb and grows organic grain, as well as organic grapes in their polyculture vineyard that is designed to be managed by sheep. Over the years, Paicines Ranch has become a renowned destination for learning about regenerative agriculture.
See more about the vineyard at Paicines Ranch at https://paicinesranch.com/our-work/vineyard/ and on the UCANR's Solution Center for Nutrient Management here.
* * *
Monday, Dec. 14, 3:00-5:00pm: The Chemistry of Smoke Taint with Phil Crews, Ph.D., Professor of Chemistry UCSC, winemaker and proprietor, Pelican Ranch Winery
Now that this year's harvest is in there are still many questions by winemakers about the impact of smoke on this vintage and what to expect with the resulting wine. Phil Crews, PhD, is Professor of Chemistry and Biochemistry at UCSC, has taught courses on the chemistry of winemaking, and will give a presentation on the Chemistry of Smoke Taint for winemakers. Bring your questions! This will include an overview of the volatile phenols and address:
– how smoke interacts with fermentation
– what might be expected during and post fermentation, as the wine progresses and ages.
– what do the lab results really mean (how do you decipher the results, are all the volatile phenols equally important)?
– what actions can be taken at this point in time, if any, to mitigate possible smoke taint?
***
Friday, May 1, 3:00pm: a virtual Zoom presentation and discussion on early season vineyard management with Fritz Westover, Virtual Viticulture Academy
The 2020 vintage is upon us, and the year has begun with some challenges! Technology can help us get together virtually, and we have arranged a Zoom webinar exclusively for our group with Fritz Westover of Virtual Viticulture Academy. Fritz was previously program director for the Vineyard Team on the Central Coast and now is a vineyard consultant out of Texas, with a national reach through his web-based programs. This webinar will address a wide range of early season practices and issues – including ways you can manage cropload especially this year with the anticipated reduced demand for winegrapes.
If you would like to suggest in advance a particular topic in addition to the list below please email mary@munsvineyard.com and Fritz can include it in his presentation. You can also always inquire in real-time during the webinar. There is no charge for this webinar. Contact mary@munsvineyard.com for the Zoom login details.
Topics for the meeting will include (but are not limited to):
Wrapping up pruning/assessing pruning work
Shoot thinning strategies
Preparing your disease management program
Young vine training tips
Balancing crop levels and quality with the current market
Live Q&A
There is no advance registration. If you have not downloaded Zoom yet you should do so in advance of the meeting here, at https://zoom.us/download . You can find a tutorial on joining a meeting using Zoom here. About Fritz Westover: Fritz Westover is Viticulturist and owner of Westover Vineyard Advising, based in Houston, Texas. Fritz obtained his BS in horticulture and MS in Plant Pathology from Penn State University. He specializes in vineyard consulting for over 1,500 acres of vineyard and is active in research and education in the south and southeastern US, drawing from more than 20 years of experience in the vineyard industry including extension and outreach positions in Virginia, Texas, and California. Fritz contributes to wine industry educational programs in several states and is founder of Virtual Viticulture Academy, a leading resource for practical grape growing information for all levels of winegrape production. He can be reached by email at Fritz@VirtualViticultureAcademy.com, at his website www.VirtualViticultureAcademy.com